One of the most exciting parts of any new catalogue launch isn't just the huge selection of new wrap designs featured in the catalogue, but also the potential for other new product launches and exciting news.
With the new Autumn/Winter AU/NZ catalogue (Spring/Summer US/Canada), we got a whole lot of new goodies added to our already wonderful Jamberry product line up.
NEW JAMBERRY TOOLS
Any Jamberry fan already knows the value of the wonderful mini heater and the application kit. These are pretty much the wrap essentials for any serious users, because let's face it – hands free heat is far easier than using a hairdryer. And the application kit is everything you need for easy application.
But sometimes it's nice to step it up a notch and that's exactly what Jamberry did with the latest catalogue.
DELUXE TOOL KIT
We now have available a very classy deluxe tool kit which is not only functional, but stylish too. The deluxe kit comes in a cute purple purse case, which looks great stored inside a handbag for manicures and touch ups on the go, or at home for those serious wrap sessions.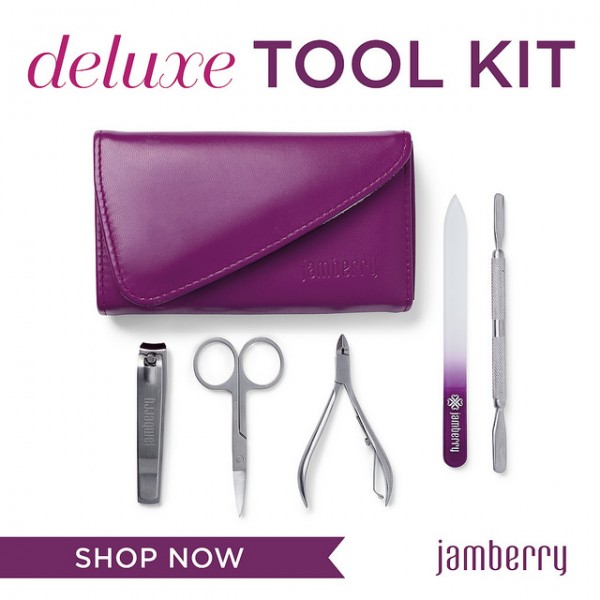 Inside it you will find:
Large nail clippers
Nail scissors
Cuticle cutters
Glass nail file
Metal cuticle pusher/spoon
These tools are great for getting next level perfection to your jamicures, with glass files providing a smoother filing finish to your wrap tips, and the metal pusher perfect for smoothing out the bumps and wrinkles.
The larger clippers are great for manicures and pedicures, and trimming excess wrap too.
GLASS NAIL FILES
But what is also great is you can now purchase glass nail files as part of our Jamberry product range as well, with them coming in a 2 pack so you can keep one at home and the other in your purse. Glass nail files are a cost effective option for filing as they can be used long term without wearing out like standard nail files.
Both of these new products are available for purchase in the STORE along with our other nail care products and tools.