Jamberry is well and truly in full swing here in Australia and New Zealand, with the number of new consultants growing every day, yet still significantly lower than more established direct sales companies. This means it is still a great time to jump on board and join Jamberry nice and early, and build your business up.
And all you need to do this is the Jamberry starter kit.
The Jamberry starter kit is everything you need to start your new business – in one convenient box. It is also everything you need to start your Jamberry journey as a customer.
So here's a hot tip: BUY A JAMBERRY STARTER KIT!!!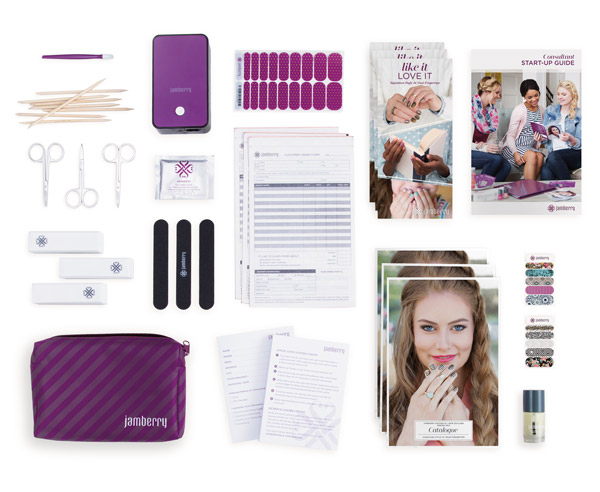 You're possibly thinking 'But I don't want to be a consultant'. Fair call. Not everyone does. But that doesn't mean the jamberry starter kit isn't perfect for you.
If you are a fan of Jamberry products (and you should be… they are awesome), then you are going to want all the right tools for your own application:
mini heater
application kit
cuticle oil
And of course… the wraps
And you know what – all this will cost you $122 AU or equivalent in the US, Canada or New Zealand.
Here in Australia, the Jamberry Australia Starter kit is just $143 and it has everything mentioned above to start your own personal Jamberry application and nail care. Except it also contains a whole lot more – samples, extra application tools, catalogues, brochures, order forms etc.
Let's face it, that's only $21 AU extra. That's next to nothing considering the value you get. Because even if you have no intention of selling Jamberry, that's still about 5 times the tools as a normal customer application kit so you will need to spend less in the long run, plus that means 250 accent nails to enjoy. Worth it already.
But here's the real reason – 30% discount!
If you purchase the Jamberry Starter kit, you are automatically given the 30% discount on all of your personal orders. This means all of your orders within the next year and potentially beyond will be at least 30% off the commissionable value. WHAT?!
Yes, that extra $21 is looking like an even better investment now, right?
And say you do decide to extend that discount beyond yourself. You could score your friends their Jamberry purchases at 30% off too. Or you could sell it to them at retail price and make a little cash back for yourself. You may even find you pay off the value of that starter kit soon too. I did, within 2 weeks of joining Jamberry (with 2 parties).
There is even a chance that you will earn even more than 30% commission on purchases, if you sell over the sale levels. Plus you have the chance of earning other bonuses and earnings from others who buy a starter kit from you. Crazy!
So yes, before you buy your complete Jamberry system, consider purchasing a Jamberry Starter kit… whether you have plans to make money from it, or just as a way to save yourself money on your own Jamberry purchases!
You can purchase a Jamberry starter kit by following the join prompts here.